TEXAS TERLINGUA RANCH for SALE
TERLINGUA Brewster County, Texas USA 79852
Terlingua Ranch Lodge is located between Big Bend National Park on the East and Big Bend Ranch State Park on the West. At the base of the Christmas Mountains, 60 miles south of Alpine and 16 miles southeast off Texas State Highway 118. Covering approximately 200,000 acres of privately owned land, this remote resort offers visitors the opportunity to stay in comfortable cabins, RV sites, or campgrounds and to explore the Big Bend by way of 1100 miles of private roads. These are dirt roads and generally require a high clearance vehicle (preferably 4-wheel drive) to access some of the best views. Even though the roads are available for exploration by the guests of Terlingua Ranch Lodge, the property along the roads is privately owned and is not open to use except in special areas.
The Big Bend of Texas is a land of giant bluebonnets, spectacular sunsets, and the largest landscapes in the state. It is also the location of Terlingua Ranch Lodge, one of the most secluded and beautiful vacation spots in the United States.

The Big Bend and Terlingua Ranch go hand in hand, each one assuring that you and your family, friends, colleagues and pets get the most out of your holiday.
There are currently over 3,000 owners of private tracts of land at TERLINGUA RANCH. Most purchases have been for recreational purposes such as camping, hunting, or as a retirement/vacation home site is a viable use for the property.

The Ranch Land for Sale
The 20 Acres property(3115-B) is facing south, the second lot from the west(3115-A). At the north east of the property there is a AQUA FRIA SPRINGS. this property is about 3400' above sea level. coming from Alpine take Texas State Highway 118 south bound about 60 miles before reaching Terlingua Road, turn right at Aqua Fria Road keep going about 8 miles you will see the Aqua Fria Springs, the Ranch Land is about one more mile away. Please check in the Google map below.
There are currently over 3,000 owners of private tracts of land at TERLINGUA RANCH. Most purchases have been for recreational purposes such as camping, hunting, or as a retirement / vacation home site is a viable use for the property.

There are access roads to all tracts on TERLINGUA RANCH. These are natural surface graded ranch type roads constructed by the original developer and are maintained by the PROPERTY OWNERS ASSOCIATION OF TERLINGUA RANCH INC., with funds provided by the payment of a maintenance fee.

The association maintenance fee for this land is $ 148.47 per year
The County tax is $ 56.69 yearly
All due and taxes are current

The location of the property: See the map below
Block: 215,
Section: 19,
Tract: 3115 - B
Area: 20 Acres
Price: $12,000
Terms: Cash

Electricity : Solar or Generator (at buyer's cost)
Water : Deep Well or Storage (at buyer's cost)
Waste : Septic (at buyer's cost)
Phone : Cellular
Time Limit to Build : No Time Limit
Zoning : Residential
Deed Type : Warranty Deed. This property will be conveyed via a warranty deed guarantying free and clear title. Title will be delivered free and clear once property has been paid in full. The Seller is the Owner of the Property
For more info:
email: tenfold777@yahoo.com
Some View of the Terlingua Ranch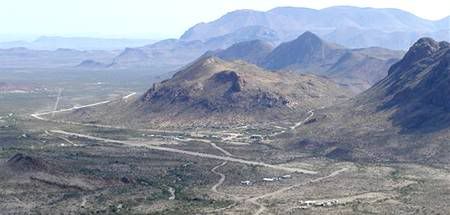 The Air Strip View from the Lodge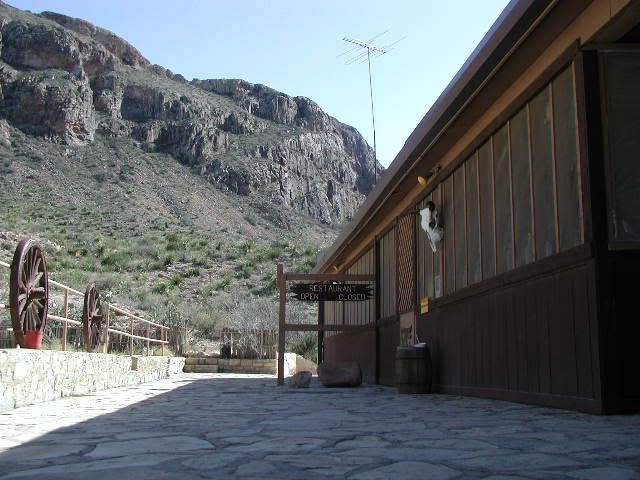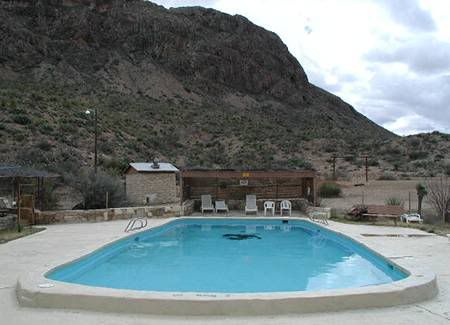 The Lodge Swimming Pool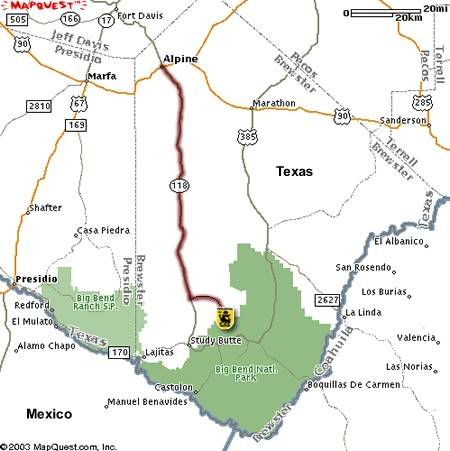 How to Get Here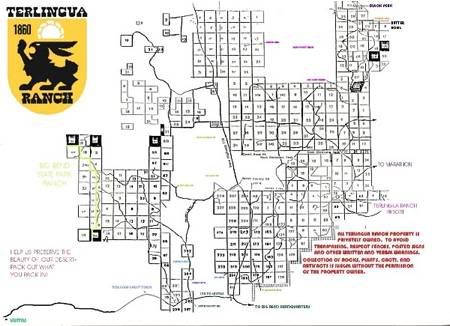 The Terlingua Ranch Map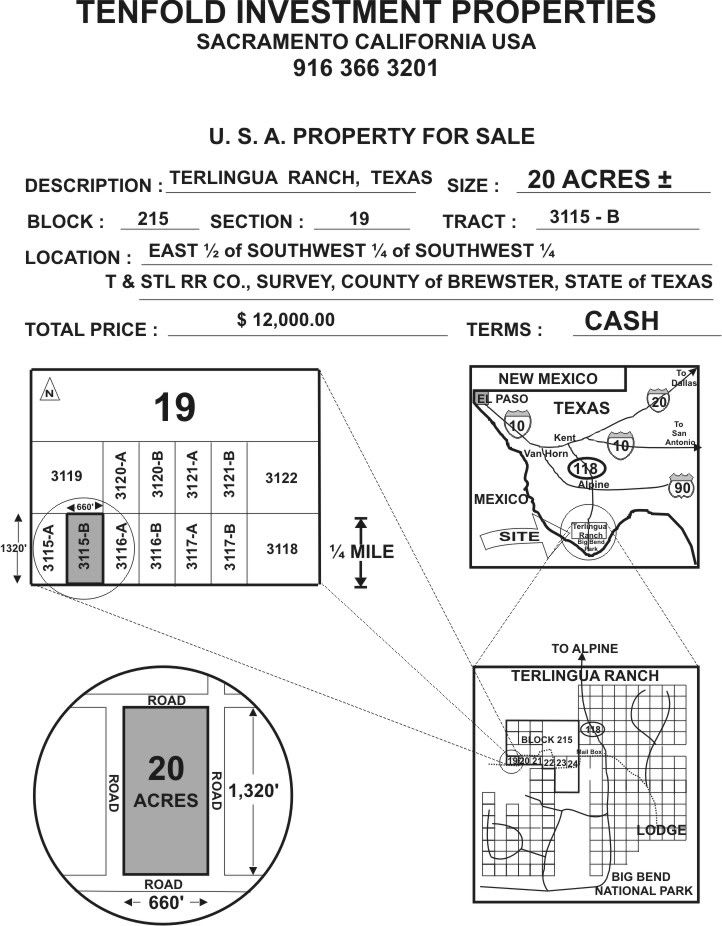 View Tract-3115-B in Google Map
Two Driving Direction to get to the Property